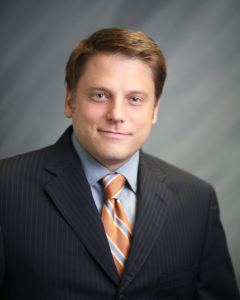 (530) 798-2417
druderman@chwlaw.us
David Ruderman is City Attorney of Lakeport, General Counsel of Yuba LAFCO, and Assistant General Counsel of the Tahoe Forest Hospital District and Calaveras LAFCO. He is also Senior Counsel in Colantuono, Highsmith & Whatley's litigation practice group. His litigation and advisory practice covers a range of public law issues, including municipal finance and public revenues, public utilities, LAFCO matters, land use, cannabis regulation, election law, employment law, and general contract and commercial disputes.
In David's advisory practice, he has extensive experience with code enforcement, municipal finance/Proposition 218 matters, election law, labor relations, land use, planning, and CEQA issues raised by projects large and small. He has extensive experience abating public nuisances both on an administrative level and in court, as well as obtaining reimbursement from the property owner and others for abatement costs. He has drafted ordinances amending zoning codes and General Plans and regularly advises on CEQA issues, as well as litigating such cases. His labor practice includes not only general advice regarding bargaining, but also defending cities from unfair labor practice charges before PERB. He also regularly provides ethics training to local elected official under AB 1234 and presentations to local government staff on legal compliance issues.
David has broad litigation experience in both state and federal courts, which he uses to help his advisory clients avoid court where possible and desired. He regularly handles all phases of litigation: analyzing potential claims, drafting complaints and other pleadings, preparing dispositive motions, handling all phases of discovery, oral argument, and motions practice. David's litigation expertise is focused on writ actions but also include pre-trial and trial work as well. He has experience with alternative dispute resolution from mediation to arbitration and his appellate experience includes matters before both the California Court of Appeal and the Ninth Circuit.
Among his litigation experience, David recently obtained a published opinion affirming a preliminary injunction enjoining the operation of medical marijuana dispensaries in the City of Pasadena: Urgent Care Medical Services v. City of Pasadena (2018) 21 Cal.App.5th 1086. This success was preceded by another appellate victory, where he obtained reversal of a trial court's denial of a preliminary injunction in Vallejo's efforts to enforce its medical marijuana ordinance: City of Vallejo v. NCORP4, Inc. (2017) 15 Cal.App.5th 1078. He has also successfully defended on appeal his trial court victory in a taxpayers' lawsuit challenging the Monterey Peninsula Water Management District's decision not to call an election on a referendum to a water supply charge the District adopted under Proposition 218. He also not long ago successfully defended a California Public Records Act case for a coastal city, averting an award of attorneys' fees, and succeeded in having a local initiative that would have led to litigation with its bargaining units and CalPERS taken off the ballot after the trial court found it clearly invalid.
David serves as a hearing officer for Nevada County in nuisance abatement, administrative citation, and cannabis cultivation appeals. His recent speaking engagements include "The Cannabis Conundrum: How to Extinguish Illegal Marijuana Businesses" at the League of California Cities Spring City Attorneys' Conference in May 2019, as well as panels such as "Deep Dive into Municipal Service Reviews: One size does not fit all," at the June 2019 CALAFCO (California Association of Local Agency Formation Commissions) University and "New Procedures for Independent Special District Selection Committees," at the 2018 CALAFCO Staff Workshop. David regularly serves as a reviewer for the League of California Cities' Municipal Law Handbook and his articles on the SB 244, which requires local governments to plan for disadvantaged unincorporated communities, have appeared in editions of The Sphere, the CALAFCO journal.
David was admitted to the California State Bar in December 2006, after receiving his J.D. from UCLA School of Law in 2006. While at UCLA, David was a managing editor of the UCLA Law Review and worked as a judicial extern for the Honorable Harry Pregerson of the Ninth Circuit Court of Appeals. Prior to attending law school, David served as a Peace Corps volunteer in the Russian Far East and provided immigration legal services to émigrés from the former Soviet Union to the San Francisco Bay Area. He graduated with honors from Lewis & Clark College with a major in History in 1997. David is proficient in Russian.
Practice Areas:
Public Law
Local Agency Formation Commission (LAFCO) Law
Public Finance Law
Election Law
Land Use / CEQA
Cannabis Regulation and Litigation
Open Meeting and Records Laws