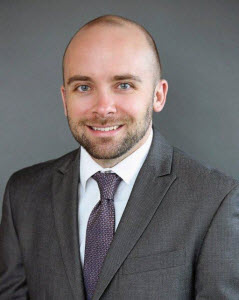 (213) 542-5717
rdunn@chwlaw.us
Ryan is senior counsel in Colantuono, Highsmith & Whatley's litigation practice group. His practice covers a full range of litigation matters, including disputes over public revenues, election disputes, land use issues, general commercial litigation, and related appeals.
Ryan's trial court experience includes:
successful defense of a southern California tourism marketing district assessment in a Proposition 26 challenge and a separate class action challenge, which was dismissed at the pleading stage;
representation of a Central Coast county in challenges to the county's annexation fees, leading to a successful motion for new trial and judgment for the county at the new trial;
representation of a southern California charter city in a Proposition 26 case against the city's business improvement district assessments, leading to a dismissal;
successful defense of a Central Coast water district's refusal to process an illegal referendum challenging a water supply surcharge, currently on appeal to the Sixth District Court of Appeal in San Jose;
defense of a county's enforcement of its ridgeline protection ordinance against an inverse condemnation challenge, leading to a defense verdict after a five-day court trial;
defense of Proposition 26 challenges to utility rates and general fund transfers on behalf of multiple public entities throughout the state;
defense of a business improvement district in a Public Records Act case involving a challenge to the district's document retention policy;
and successful defense of a southern California charter city's interpretation of a parcel tax against a Proposition 218 challenge claiming the city's application of the tax amount to a "change of methodology" and therefore a tax increase requiring voter approval, affirmed on appeal.
Ryan is also serving as local counsel for a Fortune 500 company based in Minnesota in a federal Superfund case and as assistant general counsel for the Burbank Hospitality Association.
Ryan's appellate experience includes drafting several petitions for appellate writ relief and Supreme Court review, including a successful petition for review in Jacks v. City of Santa Barbara (2017) 3 Cal.5th 248 — a Proposition 218 challenge to Santa Barbara's electricity franchise fee — and representing the City at the Supreme Court, where the court reversed the Court of Appeal. He has also helped draft several amicus briefs on public law matters on behalf of the League of California Cities and other municipal entities. Ryan is a member of the League of California Cities Municipal Finance Committee and helped draft the League's Proposition 218/26 Implementation Guide.
Prior to joining Colantuono, Highsmith & Whatley, Ryan litigated environmental and product liability matters at Faegre Baker Daniels LLP in Minneapolis. Ryan's work at Faegre included significant involvement in advising a corporate client on the potential for environmental enforcement actions under state and federal law arising out of groundwater contamination caused by an oil refinery in Alaska, as well as representation of that client in litigation with a former owner of that refinery.
After law school, Ryan worked as a law clerk to two judges with civil case assignments at Los Angeles Superior Court. In this role, Ryan analyzed and drafted bench memoranda for dozens of motions for summary judgment on cases ranging from employment matters to real estate disputes to government tort claims. Ryan also analyzed motions from every stage of the civil trial process, from demurrers to discovery disputes to requests for entry of default judgments.
Ryan was named a Southern California Rising Star by Super Lawyers in 2016 and 2017. He received his law degree from the UCLA School of Law in 2009 and an M.A. in urban planning from the UCLA School of Public Affairs that year, where he focused his studies on transportation issues. Ryan assisted two law professors in their research efforts while at UCLA and was named a Distinguished Advocate by the UCLA Moot Court Honors Program. He graduated with honors from the University of Wisconsin-Madison with a B.B.A. in Finance and Real Estate and worked for an affordable housing developer in the Minneapolis area after college. When not at work, you might find him running the trails in Griffith Park, rooting for the Chicago Cubs or Wisconsin Badgers, or exploring Los Angeles by foot or bike.
Practice Areas:
Public Revenues
Appellate Law
Election Law
Land Use Litigation
Public Records Act Litigation
Redevelopment and Affordable Housing